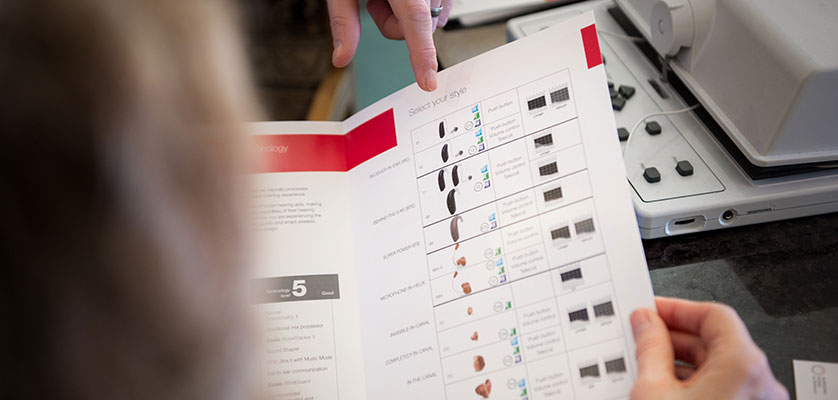 Wide selection of
Hearing Aids
A wide range of technology and a host of features are available in each hearing aid style. The cost of hearing aids generally depends on the technology and the number of features the instrument has and not necessarily on the style selected. Today's digital hearing aids are typically offered in various levels such as basic or entry-level to advanced or premium-level. Within each level, different technology and features are available.

Basic digital hearing aids generally require the wearer to make some manual adjustments in certain listening environments such as turning a volume control up or down, or pushing a button to change listening programs. In contrast, a premium or more advanced hearing aid responds automatically to changes in the listener's environment, making changes based on the signals being detected by the hearing aid. The hearing aid wearer is not required to make any manual changes. As the level of the technology increases in hearing aids, so do the availability of advanced features.
To learn more about the Hearing Aids we carry please contact us at (928) 855-5252.

IMPORTANT NOTICE!
Dear Neighbor,

We want you to know that through the current coronavirus (COVID-19) situation, you can count on all of us at Cleartone Hearing Centers to be here for you.

Simply put, we're open, and our plan is to stay open to provide you with the essential products and services you need. We sell service and repair all major hearing aid brands.

Here's our plan:
Because we know you count on us, we are staying open, stocked and keeping normal business hours.
We are making sure our office is safe for you and our staff by checking employee temperatures and sanitizing after each patient and hourly.
We will be prescreening patients at the front door with a questionnaire and temperature check.
Please call to cancel appointments if experiencing fever and/or cough.
As our Neighbor, your health and safety are always of the utmost importance to us. We are following CDC guidelines for your wellbeing.
Some patients may be given the option for curbside service, a tele-visit and remote programing and adjustments. We appreciate your understanding and assistance during this important time.