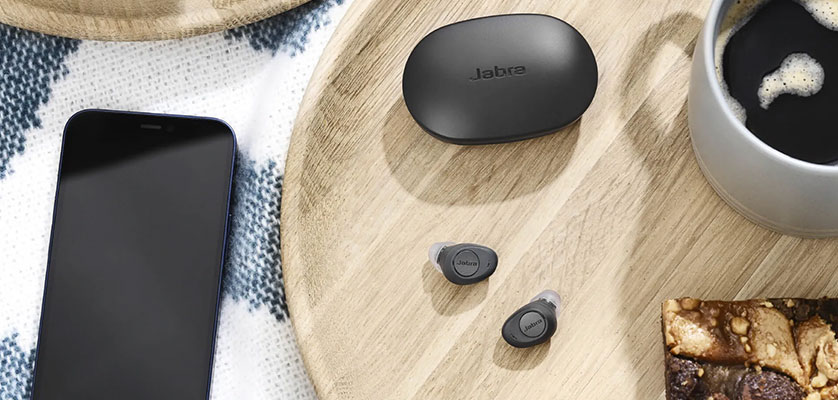 The First FDA Approved Over-the-Counter Hearing Device
Jabra Enhance Plus
The Jabra Enhance Plus is specifically for people who have a mild-to-moderate hearing loss who are looking to improve their hearing ability in certain social settings while still enjoying the many benefits of a connected wireless earbud.

Jabra conducted in-depth research and learned that people wanted a simplified hearing aid that is a lower-cost and accessible alternative to hearing instruments, with hearing support being just one of many benefits.

With this understanding, they developed the Jabra Enhance Plus that is a set of miniature earbuds engineered for hearing enhancement, music, and calls.

The Major Benefits Of The Jabra Enhance Plus Include:
Digital noise reduction to cut background noise
Speech-in-noise capabilities to help you to hear conversations in louder environments
10 hours battery and up to 30 hours battery rechargeability when using the carry case
EarGels in three sizes for a secure and comfortable fit
Rich and clear sound for music and phone calls (just as you would expect from Jabra)
These are self-fitting devices, which means that they come with instructions and do not require the professional help of an audiologist or hearing care professional to fit. We are here to help if needed.

IMPORTANT NOTICE!
Dear Neighbor,

We want you to know that through the current coronavirus (COVID-19) situation, you can count on all of us at Cleartone Hearing Centers to be here for you.

Simply put, we're open, and our plan is to stay open to provide you with the essential products and services you need. We sell service and repair all major hearing aid brands.

Here's our plan:
Because we know you count on us, we are staying open, stocked and keeping normal business hours.
We are making sure our office is safe for you and our staff by checking employee temperatures and sanitizing after each patient and hourly.
We will be prescreening patients at the front door with a questionnaire and temperature check.
Please call to cancel appointments if experiencing fever and/or cough.
As our Neighbor, your health and safety are always of the utmost importance to us. We are following CDC guidelines for your wellbeing.
Some patients may be given the option for curbside service, a tele-visit and remote programing and adjustments. We appreciate your understanding and assistance during this important time.