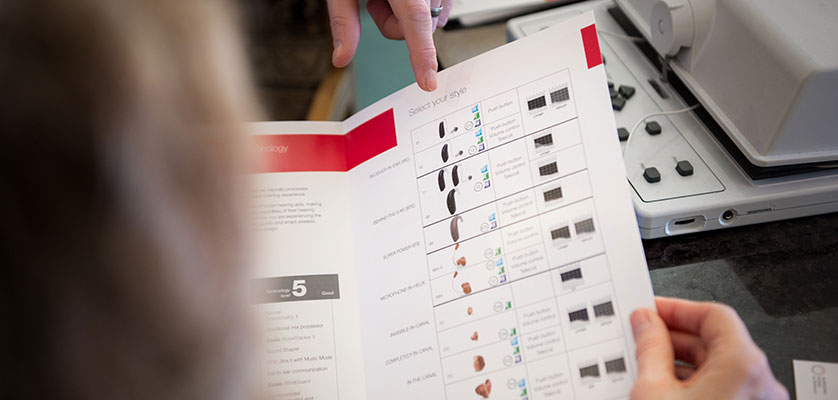 We dispense & fit hearing aids in Lake Havasu City, AZ
Hearing Aid Dispensing and Fitting
Congratulations on getting your new hearing aids! Our hearing specialist will guide you regarding how to operate your hearing aids and also how to take care of them on a daily basis to improve their longevity.

Remember that your hearing may change quite a bit once you first begin using your hearing aids. This can be unnerving and can take some time to get used to. Make sure you tell your audiologist about any uncomfortable sound levels or issues with fitting so that they can make necessary adjustments. Wearing hearing aids should be a comfortable and pleasant experience.

New hearing aids require an adjustment period to work properly, so be honest when you are asked about the sounds you are able to hear and also about the sounds you still have trouble hearing. Your hearing aids can easily adapt to your specific hearing needs, so simply let your hearing specialist know so that they can adjust your device to suit your needs. Hearing aids can really help improve your quality of life.

Your approach towards getting hearing aids is really what makes the difference between a frustrating and a successful hearing experience. Have a positive outlook towards getting hearing aids and using them regularly to make the most out of your hearing world. Share any concerns you may have with your friends and family so that they can help you out. Enjoy your new hearing aids!

IMPORTANT NOTICE!
Dear Neighbor,

We want you to know that through the current coronavirus (COVID-19) situation, you can count on all of us at Cleartone Hearing Centers to be here for you.

Simply put, we're open, and our plan is to stay open to provide you with the essential products and services you need. We sell service and repair all major hearing aid brands.

Here's our plan:
Because we know you count on us, we are staying open, stocked and keeping normal business hours.
We are making sure our office is safe for you and our staff by checking employee temperatures and sanitizing after each patient and hourly.
We will be prescreening patients at the front door with a questionnaire and temperature check.
Please call to cancel appointments if experiencing fever and/or cough.
As our Neighbor, your health and safety are always of the utmost importance to us. We are following CDC guidelines for your wellbeing.
Some patients may be given the option for curbside service, a tele-visit and remote programing and adjustments. We appreciate your understanding and assistance during this important time.